Music
Music is a higher revelation than all wisdom and philosophy. Music is the electrical soil in which the spirit lives, thinks and invents.
Ludwig van Beethoven
If music be the food of love, play on.
William Shakespeare
We are very proud to be a MUSIC MARK SCHOOL. This award was received in recognition of our commitment to providing a high-quality music education for all children at the school.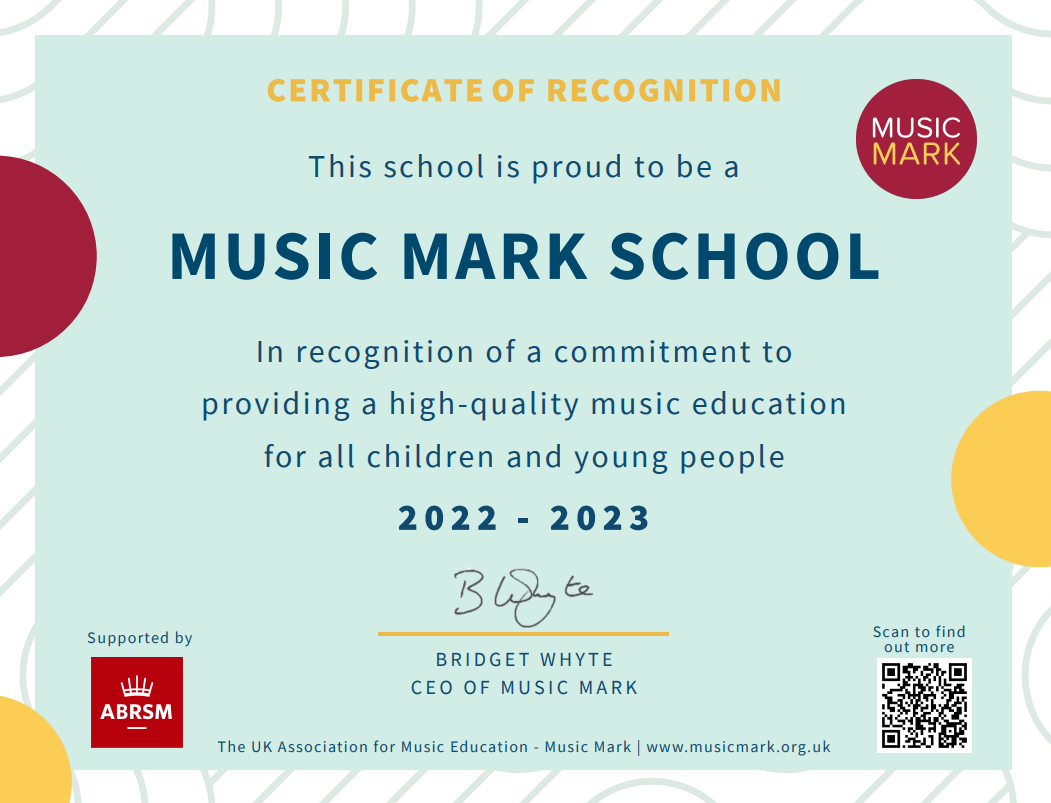 At Wykeham we believe every learner is entitled to a curriculum rich and varied, challenging and inspiring, which allows every individual to fulfil her or his potential to the highest possible standard; enabling them to shape their destinies and contribute to creating a better world.
Music is a powerful means of communication, and we encourage pupils to have an interest in a broad range of musical ideas. We believe that music contributes to the education of the whole person. Each pupil has an opportunity to make, perform, record and assess their own music and to experience a wide range of musical instruments, including those from other cultures and traditions. The teaching of music is cross-curricular in a variety of ways - music interacts with all subjects. Music-making builds on children's self confidence and sense of achievement; it develops children's social and listening skills, as well as their concentration and co-ordination.
Each class is timetabled for a weekly Music lesson in the Music Room. In addition, there is a weekly Music Assembly which is led by the Music Teacher. This allows children to sing together as a whole school community and to increase their repertoire of songs.
Class assemblies, based on a topic in conjunction with the PSHCE curriculum, are held every Friday. This assembly integrates with cultural life in Britain (St Patrick's Day, St George's Day etc.) and large scale productions such as Christmas, Eid, Diwali and Hanukkah. In addition, our school concerts provide further opportunities to learn new songs, often related to whole school themes.
As part of our extracurricular activities, Year 5 pupils have steel pan lessons that are delivered by a specialist music teacher from Brent Music Services.
Early Years
Many simple rhymes and songs are used in early years, e.g. listening to nursery rhymes and repetitive songs, joining in choruses/refrains and the use of percussion for listening or sound games.

Special Education Needs and/or Disabilities
All children can participate and benefit from practical musical activities. It is recognised that it may well be the non-academic child who may show particular interest and ability in music.
Assessment, Recording and Reporting
The school fulfils the statutory requirements on assessment, recording and reporting.
In music this involves:
Informally - in music lessons, noting achievement in response to musical objectives - e.g. "can keep a clear rhythm", and

Formally - An end of year assessment will be made, according to end of year

performance

descriptions as set out in the National Curriculum.
Please click here for this year's overview.