Reading
Here at Wykeham Primary School, we believe there is no greater skill we can teach a child than how to read fluently and for enjoyment, thus opening a world of endless learning possibilities and academic success in preparation for the next stage of their education and their future life.
We strive to create opportunities and consolidate literacy taught in a broad and balanced curriculum. Within this environment pupils are inspired to develop their use, knowledge and understanding of spoken and written English. It is our desire to enable pupils to communicate their ideas effectively and be able to respond to the views and ideas of others.
As a staff we understand the importance of developing each child's linguistic ability within the school community and society. We are concerned about the development of the whole child. We recognise the importance of effective communication and the role it plays in building self-esteem.
Pupils at Wykeham Primary School will leave Year 6:
reading and writing with confidence, fluency and understanding, using a range of independent strategies to self-monitor and correct;

with a love of reading and a desire to read for enjoyment;

with a passion for words and their meanings; developing a growing vocabulary in spoken and written forms;

understanding a range of text types, media types and genres;

able to write in a variety of styles and forms appropriate to the situation;

using their developing imagination, inventiveness and critical awareness;

having a suitable technical vocabulary to articulate their responses.
Reading for Enjoyment
At Wykeham we are keen to nurture in our pupils a love of reading and books. Many exciting and rewarding activities are arranged in school to promote the pleasure and knowledge that can be gained from books; e.g. 'World Book Day' celebration and Book Weeks.
Book Weeks include visits by published authors, skilled story tellers from many cultures, performances by professional theatre groups, making books, using drama, dance and music to illustrate texts. Pupils are surrounded by a wide range of books to give the opportunity to make an informed choice about the books they want to read and share with others, whether at school or outside of school.
Approach to Reading and Phonics
Phonics is taught daily using the Little Wandle Letters and Sounds systematic synthetic phonics programme, from Reception to KS1 and in Year 2 and KS2 where applicable. Children follow this synthetic approach which provides a method of learning letter sounds and blending them together to form words. Children following the programme are taught to read using fully decodable books designed to help children enjoy reading, become fluent readers and develop their use, knowledge and understanding of Phonics.
For resources to help you support your child saying their sounds and writing their letters, click the Little Wandle badge below. There are also some useful videos so you can see how children are taught at school and feel confident about supporting their reading at home.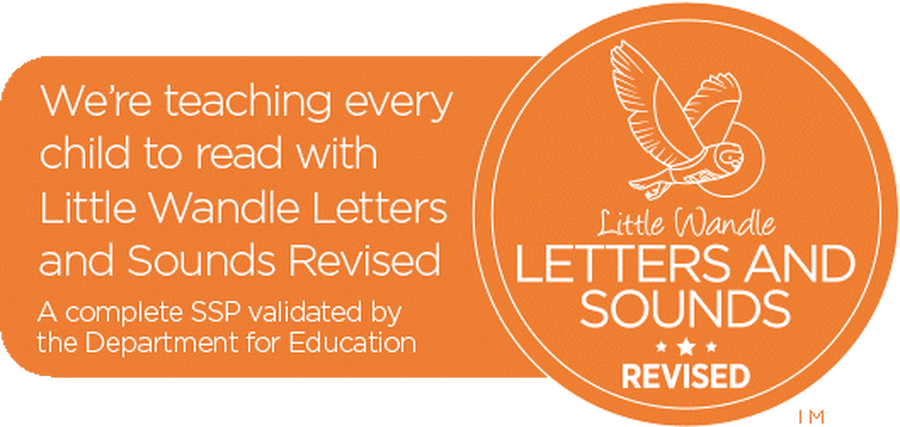 Pupils at Wykeham are encouraged to read for pleasure. Weekly library sessions are allocated so pupils can read and borrow a range of books.
Ways you can support your child with reading:
Read with your child regularly

Read to your child

Talk about what they are reading

Ask questions about what they are reading

Visit the library in your community
Writing
At Wykeham Primary School, we strive to help our children develop into articulate and imaginative communicators, who are well-equipped with the basic skills they need to become life-long learners and achieve the best that they can in life.
Our writing curriculum aims to ensure:
All of our children develop a genuine love of language and the written word, through a text-based approach.

All of our children develop an understanding of how widely writing is used in everyday life and therefore, how important and useful the skills are that they are learning.
To achieve this, we make careful links – where applicable - with areas across the curriculum. This ensures that children's English learning is relevant and meaningful. Reading and writing are linked to the learning challenge that we are covering in History or Geography.
Our intentions in writing are for children to:
Write for a purpose.

See themselves as real writers.

Take ownership of their writing.

See writing as an interesting and enjoyable process.

Acquire the ability to organise and plan their written work.
Our writing curriculum follows the prescribed National Curriculum. This ensures that skills and knowledge are built on year by year and sequenced appropriately to maximise learning for all children. We aim to develop children's ability to produce well-structured, detailed writing in which the meaning is made clear and which engages the interest of the audience/reader.
Writing is taught through a text-based approach that aims to meet the needs of the children through texts that will engage, inspire and motivate. Reading is closely linked to writing. Children are given frequent opportunities to develop their skills in reading and writing in different genres.
Children are taught discrete punctuation and grammar skills, appropriate to their year group, within our text-based approach to planning, allowing opportunities to identify, practice and consolidate grammatical understanding. Children then apply the grammar and punctuation skills that they have learnt in their extended pieces of writing.
The teaching of spelling also follows the prescribed National Curriculum for each year group. Learning to recognise the high frequency words on sight is crucial in developing fluency and accuracy in reading and then writing; high frequency words are displayed in all classrooms. Spellings are sent home by each year group as part of the children's home learning tasks; the children are then tested on these words in their weekly spelling tests.  All pupils are also taught how to spell the technical and specialist vocabulary of subjects at an age appropriate level.
Please click here for Key Stage 1 English Overview and Key Stage 2 English Overview.